Elizabeth Soccer - News
2015 Leisel Krehan Scholarship Winner!!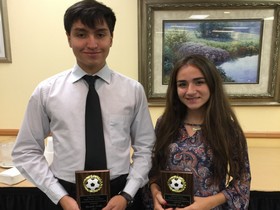 Congratulations to this years' Recipients. Danielle Matos has played youth soccer with the Elizabeth Soccer Club since age 7 and currently played for our Jaguars, she attended David Brearley High School attaining a 3.90 GPA, serving as High School Soccer Team Captain, and being named to National Honor Society; she also has been a Recreation Youth Soccer Coach and Referee, she will be attending Fairleigh Dickinson University. Ricardo Stella has been a MNJYSA Referee for four years, attended West Winsor-Plainsboro High School attaining a 3.94 GPA, and plans to attend the University of Delaware to study Mathematics Education. We wish both good fortune in all future endeavors.
Link to MNJYSA News:http://mnjysa.org/AnnouncementDetails.aspx?Newsid=508&Pageid=6