Elizabeth Soccer - News
U19 MNJYSA Champions!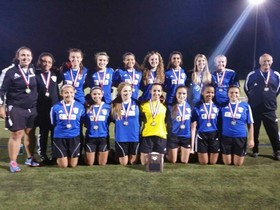 U19 Jaguars 4-time Champions!!!
After finishing in first place in Flight 1 our U19 Jaguars faced off last night against Flight 2 winner the East Brunswick Ravens to crown the U19 champion. The game was a tight affair with both teams having opportunities to score. However, as our Jaguars have done time and time again this season they scored two impressive goals by Melissa Chaquea and came out on top 2-0. With this victory the Jaguars claimed their 4th consecutive championship!
Top scorers for the 2015 Spring Season are as follows:
Alexis Wysocki - 11 goals
Bianca Ferreira - 10 goals
Amanda Matos - 9 goals

Team MVP was Amanda Mota
Team Manager Giselia Mota left the girls with the following heartfelt message: "I know it was a very difficult season with so many injured players - playing U-19 flight 1 with 12 - 13 players most of our games wasn't easy but we stuck together as a team and were able to still win it ALL - The coaches and I are very proud of you ladies - to the players leaving us, Ema, Bianca, and Monica I wish you all the best and we'll miss you"
The whole EYS family echoes those sentiments! Congratulations on a successful season! We are all very proud of you!