Elizabeth Soccer - News
EYS Recreation Soccer Registration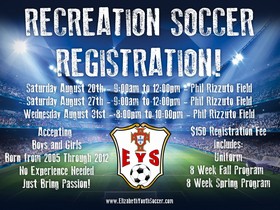 EYS is proud to announce our Recreation Registration Dates. Signups will be as follows:
Saturday, August 20th from 9:00am to 12:00pm
Saturday, August 27th from 9:00am to 12:00pm
Wednesday, August 31st from 8:00pm to 10:00pm
All registration will take place at Phil Rizzuto Field (corner of North Ave and Morris Ave)
We are accepting all boys and girls born between 2005 and 2012.
The fee this year remains unchanged, $150. The fee will cover a uniform, an 8 week fall session (September - November) and an 8 week spring session (April - June).
Please bring a copy of your childs birth certificate, photo and the fee to registration
Any questions please contact Mike Silva - mfs0715@gmail.com